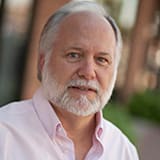 Principal, Design and Clean Water Act Permitting
Wayne's design practice ranges from traditional landscape architecture to large landscape-scale projects, all designed with sensitivity to the environment. "Sustainability, conservation, and restoration have always been strong considerations in my approach to landscape architecture," he notes.
As a design principal, Wayne is responsible for transportation and transit; renewable energy; municipal; educational; recreation; water/wastewater; and storm drainage projects. His experience also includes designing restoration of natural settings, water recharge, constructed wetlands, habitat replacements, and erosion control. Wayne is in charge of Logan Simpson's Permitting Team that specializes in Clean Water Act Section 402 and 404 permitting and compliance with NPDES stormwater regulations.