NEPA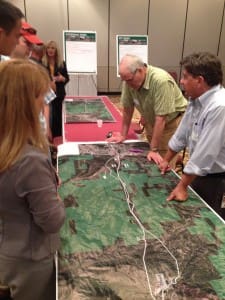 Meeting Environmental Compliance Regulations
NEPA compliance can be like herding cats. We can help you navigate through the compliance process with the assistance of our talented NEPA consultants. Our consultants cut through the complexity and create NEPA documents that are reader-friendly, legally defensible, and meet federal, state, and local environmental regulations and guidelines. We have worked with a wide range of lead agencies, including BLM, NPS, USFS, BIA, BOR, as well as departments of transportation.
Complying with All Legal Requirements
With more than 3,500 environmental studies to our credit, it's fair to say we understand how to facilitate the differing needs of federal agencies, work seamlessly with multidisciplinary teams, and interact credibly with stakeholders and the public.
Emphasis on Defensibility
We understand that sound analysis grounded in proper procedure can help defend against legal challenges. Our environmental consulting services include regularly assessing our work products for legal defensibility. We also monitor for regulatory changes and ensure our work meets the letter of the law.
Focus on Service
We are highly responsive to our clients' needs and maintain a high degree of flexibility and adaptability, qualities that help us guide federal agencies and project applicants through the NEPA process smoothly and efficiently. If you have a fast-track project with an extremely tight schedule, Logan Simpson's NEPA experts can help you.
Exceptional Public Participation
Logan Simpson excels at gaining the public's trust and gathering public input. We use an extensive toolkit of public involvement techniques to craft public participation programs tailored to each project. We can also use our web-based comment management software, CommentPro®, to substantially reduce costs.
An Interdisciplinary Approach
We have environmental planners; biological, cultural and visual resource specialists; and Clean Water Act permitting specialists under one roof, so our staff work together often. They quickly develop a well-informed overview of a project's potential effects so they can anticipate and deal with challenges early.
Experienced Staff You Can Count On
We make sure to assign the right people with the right qualifications and experience to get the job done, and key staff follow projects through to completion. We also have sufficient staff to meet "surge" requirements in the case of spikes in workload.
Section 508 Compliance
Section 508 of the Rehabilitation Act of 1973 mandates that federal agencies provide electronic information in formats accessible to those with disabilities. Our specialists are adept at building accessibility into documents, properly generating 508-compliant PDF versions, and retrofitting noncompliant PDF files for various types and sizes of NEPA and technical studies projects.
Services include:
Environmental impact statements (EISs)
Environmental assessments (EAs)
Categorical exclusions (CE/CatEx/CX)
Third-party project management assistance
Third-party technical resource reviews
Maintaining the Administrative Record
Public involvement
Section 508 compliance