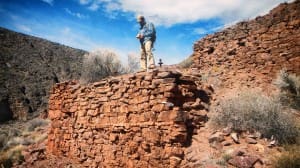 Logan Simpson's cultural resources consultants have extensive experience performing archaeological surveys, carrying out testing, monitoring, and data recovery projects; evaluating properties for NRHP eligibility; and preparing cultural resources reports for compliance with NHPA Section 106 and other federal, state, and local regulations. We have specialized training in prehistoric and historic archaeology, historic preservation, cultural resources compliance monitoring, Section 106 coordination, and tribal consultation coordination.
Balancing Section 106 Compliance with Project Requirements
Ultimately, every project is measured by how much it costs, and how long it takes to successfully complete the work. Logan Simpson has longstanding relationships with SHPOs; local, county, state, and federal agency archaeologists; and tribal governments. Because of these collaborative relationships, our cultural resources consultants can work within regulatory frameworks to develop innovative solutions for even the most complex projects, and streamline the permitting process.
Rapid Response Across the West
Logan Simpson's archaeologists meet the requirements of the Secretary of the Interior's Standards and Professional Qualifications and hold numerous federal and state permits for cultural resources work throughout the West. Our clients recognize our ability to quickly respond to project requests, including preparing cost estimates; conducting background research; obtaining permits; preparing reports; and mobilizing crews for fieldwork, including immediate response to discovery situations and monitoring. Our large staff size allows us to hit the ground running on any project on short notice.
Services include:
Cultural resources inventories
Archaeological testing and data recovery
Archaeological monitoring
NHPA Section 106 project management
Cultural landscape inventories
Historic building inventory and landscape documentation to HABS/HAER/HALS standards
Tribal consultation coordination
Cultural and historical interpretive displays