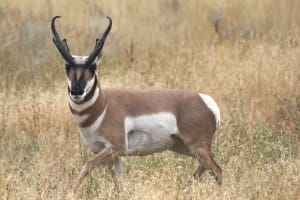 Logan Simpson's biological resource specialists include botanists, avian specialists, wildlife and fisheries managers, bat biologists, ecologists, and habitat assessment and restoration specialists.
Our environmental consultants meet the requirements of NEPA and the Endangered Species Act every day, and they stay up to date about natural resource management and wildlife issues. They focus on developing practical solutions to complex biological and regulatory issues.
Logan Simpson Provides Strong Biological Resources Capabilities and Experience
Logan Simpson's environmental consultants conduct field evaluations; biological reviews; biological assessments and evaluations; wildlife/species habitat evaluations; and species-specific surveys.
Our team includes experts on rare and endangered species such as the desert tortoise and golden eagle, as well as threatened and endangered plants. We can assemble sizable crews of experienced biologists, and have demonstrated the ability to conduct high-quality field work that meets agency standards and regulatory requirements, even when time frames are short.
Services include:
Species surveys
Biological evaluations
Biological monitoring
ESA Section 7 consultation
Habitat conservation plans
Native species/noxious weed inventories
Regulatory compliance training
Restoration and management plans