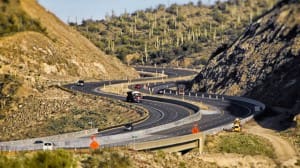 Whether you hit the road by car, bus, bike, rail, or plane—or even on foot—our landscape architecture design team believes that the landscape you're traveling through should be beautiful, safe, and sustainable.
Logan Simpson's landscape architecture design staff has more than 350 years of experience creating designs for roadway, airport, rail, park and ride, bus, and multimodal facilities. We work closely with our clients to create designs that capture the character of the surrounding environment while meeting environmental and safety goals.
Our environmental planning staff has worked on hundreds of transportation and transit projects, from development of NEPA documents to biological, cultural, and visual studies.
Projects include:
Rural highways
Urban freeways
Streetscapes
Light rail facilities
Transportation maintenance facilities
Transit and bus facilities
Park and ride facilities
Multimodal facilities
Airports