2015 / Dec / 13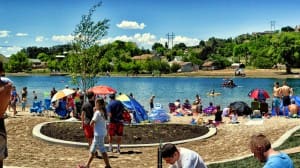 Utah Construction & Design Magazine announced the winners of its "Most Outstanding Projects." Wayne Bartholomew Park, one of our Salt Lake City office's projects, was honored in the Landscape/Public Space (Small) category.  It was one of 31 projects selected by a panel of industry professionals in the architectural, engineering and construction industry.
Logan Simpson designed a swimming beach, boardwalk, fishing docks, amphitheater, parking, trails, restrooms, and picnic sites for this 25-acre property at the mouth of Hobble Creek Canyon.  The property has historically been a spring collection area for the City as well as agriculture property for the Wayne Bartholomew family. In 2012 Springville City received grant monies to create a secondary water storage pond at the park. Through the grant, the City was able to construct a four-acre pond on the site.
Within the past two years, our Salt Lake City landscape architecture design team has completed six major park master planning projects for Salt Lake City, Midvale, and Springville.  Four of the six projects are under construction or have been completed in accordance with the master plan goals objectives and preliminary construction budgets.
Read about the project here.