2013 / Nov / 19
The Class I Cultural Resources Overview: A Developer's Best Friend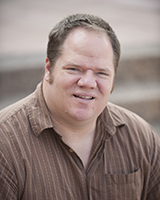 Is there anything quite like deep sea fishing? Once that line is in the water, you're never quite sure what you are going to pull up, assuming you even get a bite. Experienced fishermen have certain expectations when they go to sea; some fishing spots are better than others, one type of fish is much more common in one area of the ocean than another. I would be surprised if I pulled up say, a mermaid, but who knows? الربح من الانترنت مجانا The ocean is a big place after all.
The work of cultural resources is a little like deep sea fishing. We, as archaeologists, can't be 100 percent sure about what is under the ground until we start digging. With the immense desert landscape in Arizona, cultural resources are sure to be present in various locations. In keeping with responsible environmental planning practices, archaeologists are regularly tasked with protecting culturally significant artifacts from damage that may result from modern development projects. However, we do have tools and techniques that we can put to work to greatly narrow our expectations about what might be present beneath the ground surface.
One quick and effective tool is the Class I Cultural Resources Overview. In a Class I, an archaeologist will research a project area, whether it is the route of a proposed road project or a new development to determine if any archaeological sites have been located nearby. This includes the summary of any previous archaeological investigations. كيف تلعب بوكر In some cases, more time intensive techniques, such as an archaeological survey, have already been implemented. Therefore, we can say with a high degree of certainty if cultural sites are in the area. In other cases, we can look at nearby sites, the general environment, and other resources, and assess the likelihood of cultural resources being present in the given project area.

I have worked with many clients who request cultural resource services late in the development process to address an unanticipated archaeological issue. When significant resources have often already been allocated to the project, the developer is then faced with deciding between backing out of the project at a loss, or proceeding with unexpected expenses associated with archaeological compliance. In many cases, conducting a Class I Overview would have revealed any issue during development before the commitment of substantial cost and resources. It is, therefore, prudent to consider these tools before green-lighting the next development project. In turn, you will never be surprised by that mermaid in your boat.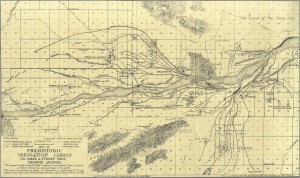 One prime example of an "other resource": Dr. Omar Turney's 1929 map of prehistoric irrigation canals in the Phoenix area. Because many prehistoric people in Phoenix were irrigation farmers, proximity to an irrigation canal is an indication that archaeological sites are more likely to be present.
For clients taking on project developments, cultural resource management should be considered in the early stages of the process. كيف تربح المال من الإنترنت Adherence to responsible environmental planning protocols is a cost-effective way to protect the integrity of Arizona cultural resources.