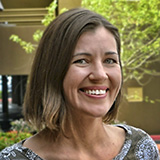 Assistant Director of Cultural Resources/Office Manager, Tucson
Tina is an archaeologist and serves as Assistant Director of Cultural Resources for the Arizona group and Office Manager for Logan Simpson's Tucson office. She has worked hundreds of archaeological projects as a crew member, field director, and project manager. While much of Tina's experience is in Arizona, she has worked on projects throughout the west.
Tina's areas of expertise include the archaeology of western and southwestern Arizona, prehistoric rock art, and shell analysis.  She spent the formative years of her career working a wide variety of field projects before earning a Master's degree at Northern Arizona University. Although she still loves the field, Tina's primary job at Logan Simpson is to help manage the cultural team, oversee all fieldwork methods and logistics, write proposals, review reports, and serve as a point of contact for clients.