2015 / Sep / 09
Sneak peek before City of Tempe – El Paso Gasline Path Grand Opening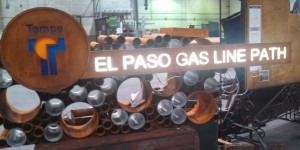 Here's a sneak peek of the monument signs under construction for the City of Tempe – El Paso Gasline Path. The Logan Simpson designed project will improve east-west bike and pedestrian movement, safety, and connectivity within the city by providing a separated, non-motorized, ADA accessible path for bicyclists and pedestrians from Rural Road to Kiwanis Park, a major recreation destination, and to adjacent and nearby commercial employment areas. 
The project will include a paved path, lighting, landscaping, public art and other amenities. The project will meet all ADA requirements and the project is funded almost entirely with . 3 million in federal transportation grants. The project continues Tempe's commitment to multi-modal transportation and improving upon what is already the highest percentage of bicycle commuters in the state. The project is both a recreational amenity (linear park) and a transportation corridor.
A grand opening celebration is scheduled for 8 a.m. Sept. 26 at the Fiesta Playground, 5775 S.  All America Way. Read more here.