2015 / Sep / 24
River's Edge Natural Area Open to the Public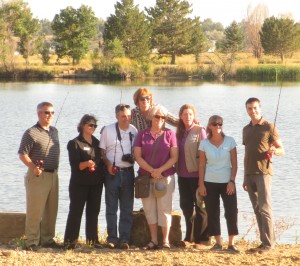 River's Edge Natural Area is open. The City of Loveland's grand opening ceremony included a fishing clinic, guided bird and plant walks, demonstrations and wildlife viewing.    Logan Simpson's landscape architects prepared the master plan and designed the improvements to the site for public recreation facilities, and restoration of the disturbed riparian and uplands habitat. Select areas of the ponds were filled in and banks cut back to create additional wetlands and terrestrial and aquatic habitat. The site was scheduled to open in September 2013, but was heavily damaged during the Big Thompson River flood. The 121-acre natural area features:
Two miles of natural-surface trails provide opportunities for hiking, bicycling, wildlife viewing, and fishing.
Five ponds: North Jayhawker, South Jayhawker, Sandpiper, Dragonfly and Bass.
A pedestrian bridge connects to the adjacent Jayhawker Ponds property, and an ADA-accessible dock provides fishing opportunities on Dragonfly Pond.
A wetland boardwalk and boulder amphitheater located at the northwest corner of Bass Pond.