2013 / Dec / 16
Logan Simpson's "Our Lands – Our Future" Study Wins Colorado ASLA Land Stewardship Award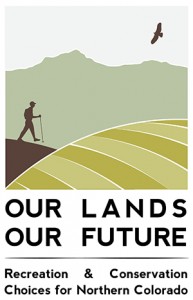 The Colorado Chapter of the American Society of Landscape Architects awarded the Land Stewardship Award to LSD's "Our Lands – Our Future: Recreation and Conservation Choices for Northern Colorado" conservation study at their annual ceremony December 12. Our Lands – Our Future was the only project to receive the award, which recognizes projects that exemplify the stewardship of Colorado's landscape and its sustainability.
For the first time in Colorado, all of the local governments in a county engaged in a comprehensive study on  land conservation and nature-based recreation to evaluate successes, potential improvements, and existing gaps. The regional conservation study used extensive public outreach, an interactive GIS website, and dedicated engagement by nine partner agencies  to produce  a plan that shapes the vision of open space conservation in Larimer County.
Logan Simpson Design's landscape architecture and planning team provided the public involvement framework and analysis, coordination, and report for this unique regional conservation study. Working with project partners, four broad goals were developed: Conserve working farms and ranches; Create regionally-significant recreation opportunities; Protect natural resource and wildlife areas; and Enhance urban settings with open space and trail systems.
This is the first time that all of Larimer County's municipalities joined together to develop effective tools to manage diminishing open space resources. Over 4,200 citizens provided feedback on key choices: Which types of land and recreation should be provided? Where? What emphasis should be given to each type of open space? How should open space tax dollars be allocated? How should public funds be obtained for continued land conservation and recreation? The level and quality of partnerships in Colorado is unprecedented in this area, and the Our Lands – Our Future report capitalizes on those relationships.
The combined county-wide and jurisdictional-specific needs assessment, opportunity maps, financial models, and citizen priorities in Our Lands – Our Future will help conservation partners and public land managers ensure that investments are strategic, cost-effective, and representative of community values. In updating their respective master plans, local governments will save land managers time and effort by using this study as a starting point.
Read the final report here.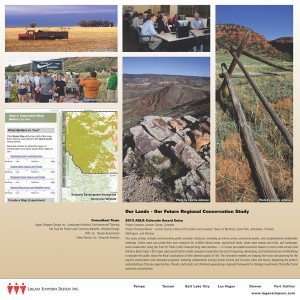 Seventeen projects took home an award at the ASLA Colorado 2013 Professional Design Awards and holiday celebration in Denver.