2012 / Oct / 11
Logan Simpson Wins IDIQ to Provide Cultural Resources Services to BLM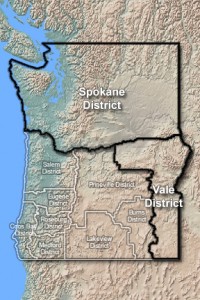 Logan Simpson has been awarded a five-year IDIQ with the Vale and Spokane districts of the BLM to provide cultural resources inventory and evaluation in eastern Oregon and eastern Washington.
Historic archaeology sites in the Vale and Spokane districts include rockshelters, quarries, campsites, village sites, and rock art sites. Historic sites and structures on public lands in both states include ranches and railroad logging camps, Civilian Conservation Corps sites, and roads and trails.
Cultural resources tasks covered under this contract include inventories, subsurface testing, archaeological data recovery, and evaluating historic buildings and structures. The cultural resources studies Logan Simpson completes will help the BLM manage cultural resources throughout the Vale and Spokane districts. The BLM manages cultural resources in order to conserve their significant cultural, scientific, educational, traditional, and recreational values for present and future generations.
The Vale District manages 5.1 million acres of public land in eastern Oregon. The district boundary runs along the Snake River between Oregon and Idaho and includes small sections of Washington and Nevada. The majority of BLM public lands in Washington are east of the Cascade crest in the central Columbia Basin and in the highlands of northeastern Washington along the Canadian border.
The Vale District includes the Main, West Little and North Fork Owyhee rivers, which fall within a Wild and Scenic River corridor; and segments of the Burnt, Powder, Snake and Grande Ronde rivers. Sections of the Powder and Grande Ronde rivers are also designated as Wild and Scenic Rivers. There are numerous Wilderness Study Areas and Areas of Critical Environmental Concern as well as Research Natural Areas. The Spokane District includes land throughout eastern and central Washington. The Spokane District includes numerous tributaries of the Columbia River: Wilderness Study Areas, and Areas of Critical Environmental Concern.
According to the BLM, more than 1.2 million acres of public lands in Oregon and Washington have been inventoried for cultural resources.