2014 / Nov / 13
Archaeologists Provide Leadership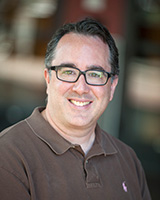 Our Tempe cultural resources firm is home to three of the Arizona Archaeological Council's (AAC) 10-member governing board. Research Director Christopher Garraty, Ph.D., RPA, (left) is the current President of the AAC and will serve the board in 2015 in an advisory role as Immediate Past President; Leigh Davidson is the current Secretary of the AAC through the end of 2015; and Justin P. Rego, M.A., RPA, was recently elected as the AAC's new Information Technology Officer starting in 2015. Justin, Leigh, and Chris will help shape the future of the AAC and bring in new ideas and agendas for improving the lot of professional archaeologists throughout the state.
In addition, Chris recently organized and hosted the AAC's 2014 Annual Fall Conference at the Arizona Museum of Natural History in Mesa, which celebrated the upcoming 50th anniversary of the National Historic Preservation Act (NHPA). The conference included presentation of a paper coauthored by Chris and fellow Logan Simpson landscape architecture design specialists Mark Hackbarth, Greta Rayle, and Helena Ruter. Their paper highlighted some of the significant archaeological projects, momentous findings, and advances in our knowledge about the historical period in Arizona made possible by NHPA-driven archaeology.
The AAC, a non-profit voluntary association with approximately 250 members, supports the goals and aspirations of the professional archaeological community in Arizona. The AAC seeks to promote and coordinate communication and cooperation within the archaeological community; encourage the development and implementation of professional-quality research and reports; work for the preservation and conservation of the prehistoric and historic heritage of Arizona; uphold State and Federal laws, rules, and regulations that protect cultural resources; advocate and publicize these objectives in the state of Arizona; and promote greater understanding between archaeological organizations and Native American communities.