2015 / Aug / 31
Logan Simpson Celebrates 25th Anniversary
This year marks Logan Simpson's 25th anniversary and we are going to celebrate. The Tempe headquarters and Salt Lake City offices hosted parties in September celebrating our clients, teaming partners, staff and friends.
"We started in 1990 with just $2,000 in working capital, one green screen computer, and a primitive laser printer i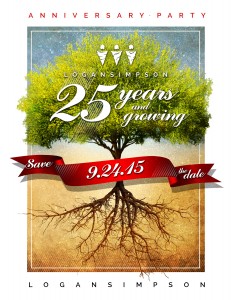 n the back office of a small Phoenix engineering firm," said CEO Diane Simpson-Colebank. "Today, we are a firm of more than 120 talented staff in six offices providing exceptional landscape design, cultural resources, and environmental and community planning services throughout the West and in places as far away as Florida.  "
Logan Simpson staff includes environmental and community planners; landscape architects; biologists; archaeologists; historic preservationists; and Clean Water Act Section 402/404, public involvement, visual resource, and GIS specialists.