2014 / Oct / 20
Kris Gray Promoted to Marketing Manager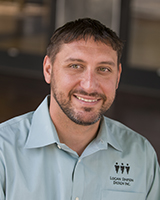 Kris Gray was promoted to marketing manager at Logan Simpson Design Inc. Logan Simpson is a woman-owned, landscape architecture design and environmental planning firm that works throughout the western United States.
When Kris joined Logan Simpson in October 2003, his role primarily involved proposal coordination duties for the Tempe and Tucson offices.  Since then he has taken on business development and proposal responsibilities that span the firm's growing service lines and presence in Nevada, Utah, Colorado, and Oregon. As marketing manager, his duties include managing the firm's overall proposal effort, preparing proposals and marketing collateral, and assisting in branding and business development strategy.
With 14 years of experience in the A/E/C industry, Kris is a board member of the Arizona Chapter of the Society for Marketing Professional Services. Through SMPS he has held an active role in Phoenix Construction, which benefits St. Mary's Food Bank Alliance.