2013 / Nov / 06
Kathryn Leonard named to Historic Preservation Commission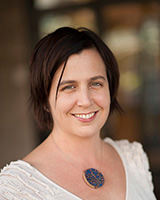 LSD Cultural Resources Director Kathryn Leonard, M. A., RPA, was appointed by the Phoenix City Council to the Phoenix Historic Preservation Commission. The nine-member commission maintains the Phoenix Historic Property Register and makes recommendations to the City Council and citizens regarding historic preservation.
Members represent the fields of history, architecture, prehistoric and historic archaeology, and related disciplines.  During her three year term, Kathryn will assist the city's Preservation Officer in reviewing appeals on proposed alterations to historic properties, historic districts and archeological resources through the Certificate of Appropriateness process; and make funding recommendations for Historic Preservation Bond Funds.
Kathryn, who resides in Phoenix's Fairview Place Historic District, manages the cultural resources program at LSD and provides Section 106 of the NHPA support, including government-to-government consultation, for large, complex energy EIS projects.