2013 / Dec / 18
Jana McKenzie Appointed to Colorado Board of Landscape Architects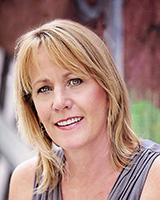 Colorado Gov. John Hickenlooper appointed Jana McKenzie, an award winning Principal Landscape Architect with Logan Simpson Design, Inc., to the State Board of Landscape Architects. Jana, whose career spans over 25 years, is an ASLA Fellow, a LEED Accredited Professional, and certified by the Council of Landscape Architectural Registration Boards (CLARB).  Jana is one of a small group of landscape architects who, with ASLA, originated the Sustainable Sites Initiative in 2002. She has also been a Director of the ASLA Sustainable Sites Professional Practice Network, and served five years on the USGBC Greenbuild Conference Program Committee.
Jana, who resides in Fort Collins, has a broad range of experience serving public and private clients in streetscape design, design guidelines, community master planning, transportation facility design, parks and trails planning and design, natural areas design, and resource management. Her experience ranges from the preparation of large-scale planning documents to site-specific design for projects in Colorado and throughout the western United States. Jana manages and coordinates multi-disciplinary design teams, and leads public participation programs for consensus building to ensure successful, well-accepted, and implementable solutions. Her work focuses on integrating the multiple facets of sustainability – environmental, economic, social, health and culture – to result in plans and designs that are appropriate for their context, and which endure over time.
Jana is committed to educating the public and allied professionals about the importance of stewardship and the critical role that landscape architects play in designing healthy, livable communities.
The State Board of Landscape Architects regulates and licenses landscape architects within the Division of Registrations, Department of Regulatory Agencies. The mission of the Board is to safeguard the health, safety, and welfare of the people of Colorado by preventing the improper design of public domain landscape infrastructure by unauthorized, unqualified, and incompetent persons. Activities include examining and licensing landscape architects, investigating complaints about landscape architects and disciplining those who violate the law and/or the Board's Rules.  This Board is made up of five members: three from the profession and two public members. It works closely with national organizations such as CLARB.
Jana's term on the board will expire August 4, 2017.