2015 / Sep / 09
History is Re-Created in Tombstone as Part of ADOT Project on SR 80
Project Update! Logan Simpson landscape architects, environmental planners, and historians assisted the City of Tombstone with design and environmental compliance for a transportation enhancement –funded project within the boundaries of the Tombstone National Historic Landmark.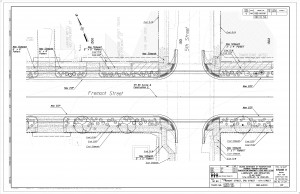 The purpose of this transportation enhancement project is to restore Fremont Street's historic look and feel by narrowing the existing roadway and providing a combination of boardwalks, concrete sidewalks, building canopies and landscaping in addition to directional signage which will be placed prior to entering the historic district from both the east and west ends of the district.
As part of the million improvement project, ADOT crews will replace sidewalk in a three-block area in front of the historic Schieffelin Hall, the former theater and ballroom built in 1881, and along both sides of Fremont Street, which is the local name of SR 80 where it passes through Tombstone.  To make the street more pedestrian-friendly, ADOT will narrow the width of the street and add lighting within the project area. Read more here.