2012 / Sep / 02
Logan Simpson's Cultural Resources Team Wins Contract for Casa Grande Ruins National Monument
Logan Simpson's cultural resources team is assisting the National Park Service revise an existing National Register nomination for the Visitor and Operations Complex Historic District located within Casa Grande Ruins National Monument.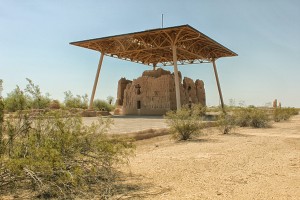 The District covers approximately 160 acres and consists of three clusters of building complexes (the visitor compound, maintenance compound, and residential compound), all of which were built by the park service and Civilian Conservation Corps between 1928 and 1963.  Located 50 miles southeast of Phoenix, the ruins themselves are much, much older.  Eusebio Francisco Kino, S.J., who founded Arizona's first Jesuit mission, recorded his visit to the ruins in 1694.
Logan Simpson's cultural resources team is working with State Historic Preservation Office staff to develop an appropriate strategy for obtaining concurrence on the document. Our historical archaeologist is revising the draft National Register nomination to address SHPO's comments and concerns. SHPO will then use the completed nomination to obtain concurrence on the District's Cultural Landscape Inventory. These documents will assist National Park Service staff in the management of the park's built and cultural landscape resources.