2015 / Sep / 10
City of Mesa's Desert Arroyo Park Grand Opening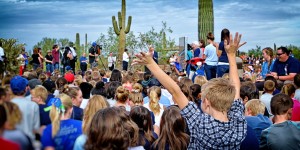 Logan Simpson is excited to announce that Desert Arroyo Park is open! The City of Mesa's grand opening ceremony celebrated technology, education and nature.  This is Mesa's first park to offer the public free WiFi along with nature walking paths that teach children about Arizona desert. 
Desert Arroyo Park is located at 9320 E. McKellips Road and sits on 58 acres with five educational nodes each with ramadas and picnic areas. Discovery guides are available on the City's Desert Arroyo Park webpage. Park patrons can also bring pencil and paper to do the rubbings from the educational signs.
Each node consists of a specific play and educational feature: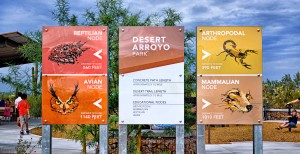 • Arroyo Node with a playground and desert wash water feature
• Mammalian Node with crawling tubes and animal footprints
• Avian Node with a telescope & chimes
• Reptilian Node with a reptile digging sand pit
The park also offers walking paths and trails for hikers and non-motorized bikers:
• ¼ mile Botanical Walk with plant interpretative signs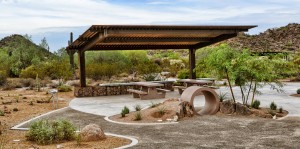 • ½ mile paved Discovery Loop connecting the educational nodes
• ¾ mile Explorers Path – multiuse for hikers & non-motorized bikers
During construction, more than 115 trees were protected, along with 150 Saguaros, barrel cactus and ocotillos. Desert Arroyo Park was designed by Logan Simpson and constructed by Haydon Construction.
This park was approved by Mesa voters in the 2012 Parks and Recreation Bond Program. Desert Arroyo Park is open from sunrise to sunset. The park entrance can be found off of the Zaharis Elementary School entry drive. Read more here.