2013 / Jul / 23
Christopher Garraty, Ph.D., RPA Joins Logan Simpson Design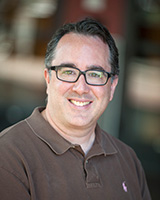 Logan Simpson Design Inc., one of the largest environmental planning and landscape architecture firms in the West, announced today it has hired Christopher Garraty, Ph.D., RPA, as a principal investigator in our Tempe office.
Chris has more than 17 years of experience, most recently working for the Gila River Indian Community in their Cultural Resource Management Program as a Project Manager in Sacaton, Arizona.
His regional and topical expertise includes ceramics analysis and technological change, development of  complex societies and premodern markets, and Spanish Colonialism.  He has conducted research on the Postclassic (Aztec) central Mexico (Aztec), Mexican Gulf lowlands, and in the American Southwest.    His analytical focus involves ceramic compositional analysis, elemental characterization techniques, multivariate statistics, heuristic approaches, exploratory data analysis (EDA), and spatial statistics.
Chris obtained his Ph.D. and his M.A. in Anthropology from the School of Human Evolution and Social Change at Arizona State University, and he obtained his BA in Anthropology from Temple University in Pennsylvania.