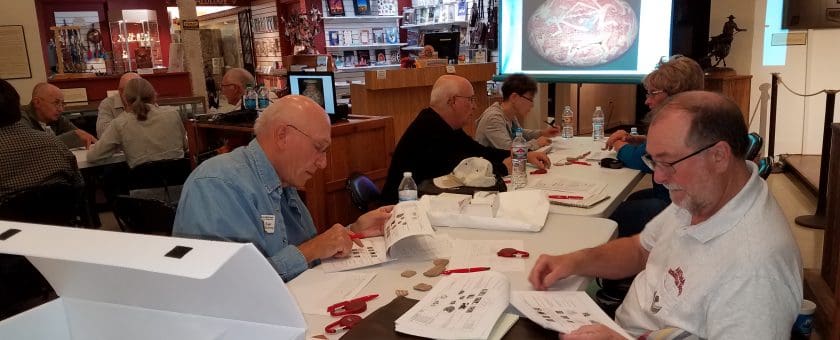 2018 / Jan / 09
Buffware lecture at the Arizona Archaeological Sociey
If you live in the Southwest, chances are you're familiar with buffware – even if you don't know the name. The pottery, or fragments of it, are on display in museums, while modern imitations of the tan and red or brown pottery sits in every souvenir shop in the state. كيفية لعبة روليت
Logan Simpson​ archaeologist David Bustoz recently taught a class about using the Henry Wallace Method to seriate, or sequence, Middle Gila Buffware prehistoric ceramics. The class was held at the Cave Creek Museum on behalf of the Desert Foothills Chapter of the Arizona Archaeological Society (AAS). After an overview of the stylistic changes in the ceramic tradition and an introduction to the Wallace method, Bustoz led students in a hands-on session in which they sequenced a buffware collection lent by the Pueblo Grande Museum.
Middle Gila Buffware is the name given by archaeologists to the iconic ceramic tradition that is most closely associated with the Hohokam. Middle Gila Buffware was produced at prehistoric villages located on the Middle Gila River, and has been recovered from prehistoric sites as far afield as Mexico and the Pacific Coast. The Wallace method was pioneered by Henry Wallace to temporally characterize a decorated prehistoric ceramic defined by archaeologists as Rincon Red-on-Brown (A. D. 950-1125), which is a Sacaton Phase Brownware commonly found in the Tucson area. Since then, the method has been revamped to apply to Middle Gila Buffware ceramics (A. العاب تجني منها المال D. 450-1350). The Wallace method is a systematic way of assigning temporal affiliation to Middle Gila Red-on-Buff ceramics by using the presence/absence of particular time-sensitive motifs painted onto the ceramics. This method is a living system, and various researchers, including Wallace, Dr. Dave Abbott, and Dr. Andrew Lack, have made refinements over time. In some instances, when applied correctly to potsherds with multiple motifs, the temporal range of a vessel can be narrowed down to a 50-year time period. بلاك جاك
The event was well received by participants, and the Desert Foothills Chapter of the AAS expressed an interest on having David put on additional classes in 2018.