2015 / Apr / 13
Airport Wildlife Hazard Assessments
Waiting in line at an airport security checkpoint, flyers know that airports across the country are committed to safety. But just outside, past the runways, towers and fences, wildlife biological resource specialists are surveying and recording data to keep the flying public safe.
As part of efforts to reduce bird and animal strikes, members of Logan Simpson's biological resources team are in the field to assess wildlife hazards at nine Arizona airports for the Arizona Department of Transportation Aeronautics Group, which is charged with meeting requirements of the Federal Aviation Administration (FAA).

One would think the size of most birds compared to the size of modern aircraft would cause little to no damage at all if a strike occurs. But in reality bird strikes are dangerous and can cause massive amounts of damage and even result in plane crashes. The speeds at which modern aircrafts travel can make even smalls birds as powerful as cannon balls under certain circumstances.
Airports and the areas that surround them are often ideal habitats for birds, deer and other wildlife. Wildlife strikes are a serious but manageable aviation safety issue. To reduce the likelihood of wildlife strikes, the FAA recommends Wildlife Hazard Assessments to identify risks.
Wildlife Hazard Assessments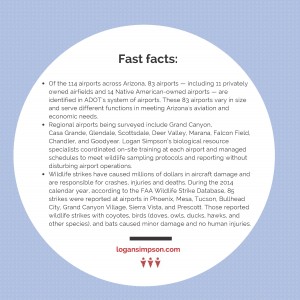 To reduce the potential for bird strikes, the FAA developed guidelines for conducting Wildlife Hazard Assessments at airports. The assessment involves 12 months of data collection, followed by a written report that includes data analysis and recommendations on whether a management plan is needed.
Logan Simpson biological resource specialists are currently conducting bird surveys for Wildlife Hazard Assessments at nine airports in Arizona. The process includes a biologist visiting each airport twice a month, once in the morning and once in the evening, to perform a biological survey.  The survey includes navigating to predetermined locations that allow for a good overview of the entire airfield.  The biological resources team documents all wildlife detected for a period of five minutes. Throughout the yearlong assessment, the team conducts two small mammal trapping sessions and two spotlighting sessions at each airport.
Upon receipt of the Wildlife Hazard Assessment, the FAA determines whether a management plan is needed for a particular airport based on results of the assessment. If prepared, the management plan provides airport operators with recommendations and management tools for reducing the risk of wildlife strikes at that airport.
What are your thoughts on the steps being taken to keep airports safe from wildlife? Let us know on LinkedIn. For more information about airport wildlife hazards, contact one of our biological resource specialists.