2014 / Mar / 31
AzASLA Recognizes Tres Rios Environmental Restoration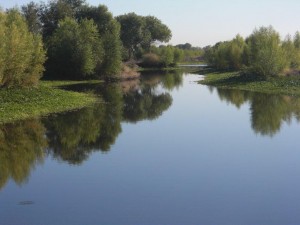 The Arizona Chapter of American Society of Landscape Architects recently recognized the Tres Rios Environmental Restoration project with an Award of Excellence in the General Design category. Construction, mining, and engineering firm Kiewit Western Co. and LSD worked together on the habitat restoration project for the U. S. Army Corps of Engineers and City of Phoenix. Phase III work included a native plant inventory; removal and control of invasive species (primarily Salt Cedar); grading and excavation of the historic river channel; and restoration of riparian and wetland marsh habitats within the active stream area.
Craig Coronato, FASLA, Director of Design, accepted the award for LSD.
Winning projects received Awards of Excellence or Honor and were judged by landscape architects based upon design and planning quality and execution, response to site context, environmental sensitivity and sustainability, and value to the public, the client, and other designers. Additionally, special awards were given in the categories of Educators of the Year, Friend of the Year, Volunteer of the Year, Sage of the Year, and Landscape Architect of the Year.
Completed in May 2012, the environmental planning project created 44 acres of new open-water reaches, 10 acres of marsh habitat, and 46 acres of riparian habitat. The Salt, Gila, and Agua Fria river corridors were revegetated with new aquatic plants and cottonwood and willow trees.
Arizona Chapter of American Public Works Association, also recently selected the Tres Rios Environmental Restoration, Phase 3A & 3B project as this year's recipient of the Public Works Project of the Year in the Environment – $5 – $25 Million category.
LSD is also the primary designer for five separate trailheads that will provide gateways to multi-use trails leading to the Overbank Wetlands and Flow Control Wetlands at the 91st Avenue Treatment Plant and the Tres Rios Environmental Restoration project.