2015 / Mar / 30
Logan Simpson's Frank Luke Addition Project and Ancient Hohokam Pottery
Cultural resource management (CRM) archaeology mainly exists to ensure compliance with federal, state, and local laws that conserve and protect significant cultural and historical resources from harm or destructive impacts. Sometimes, however, CRM work provides opportunities for detailed scientific research that yields significant advances in our knowledge of the past. Such is the case with Logan Simpson's recent excavations near 18th and McKinley streets in central Phoenix, in advance of the city's revitalization of the Frank Luke Addition housing development, a HUD-funded public housing community.
Previous investigations show that the project area was situated within the known site boundary of La Ciudad, a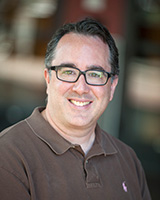 large prehistoric Hohokam village occupied from about A.D. 600 to 1450. In 2013 and 2014, Logan Simpson's team of cultural resource consultants investigated nearly 150 archaeological features within the project area and analyzed tens of thousands of artifacts, which yielded new and important information about early settlements in the La Ciudad village from about A.D. 650 to 950.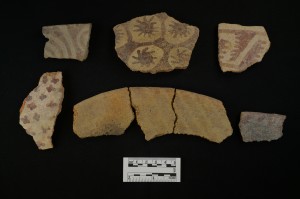 Logan Simpson's work at the Frank Luke Addition also offered a unique opportunity for Arizona cultural resources. Their team studied a specific kind of Hohokam decorated pottery made during a span called the red-on-buff brown-paste variant, or BPV. BPV ceramics are variants of red-on-buff decorated pottery (red paint on a tan or light brown surface) made with dark brown-firing clays from the lower Salt River Valley (Greater Phoenix area). They are distinguishable from the far more prevalent light-brown or pink-colored red-on-buff pottery made in the middle Gila River valley to the south, which today encompasses the Gila River Indian Community and nearby towns such as Florence and Coolidge. Despite these paste differences, BPVs exhibit the same decorative styles and designs as middle Gila buff-paste ceramics and are regarded as locally made imitations of the large-scale pottery-making industries in the middle Gila River Valley. Unlike buff-paste pottery, BPVs have rarely been subjected to detailed scrutiny. تنزيل لعبة الروليت
To better understand where and how ancient Hohokam potters made BPV pottery, Logan Simpson archaeologists collaborated with two leading researchers of Hohokam ceramics: Dr. David Abbott, an Associate Professor in the School of Social Evolution and Social Change (SHESC) at Arizona State University, and Dr. milenium bukmacherskie zaklady sportowe oferta Sophia Kelly, a recent SHESC Ph.D. graduate.
Previous studies of small rock fragments in the pastes of these ceramics showed that most BPVs were made in communities near the eastern end of the South Mountains in present-day south Phoenix and Tempe, which is also the location where most Hohokam people obtained undecorated jars used for everyday tasks such as cooking and storing food and water. Our goal was to answer the question of whether the same clays in the eastern South Mountains area were used to make both BPVs and undecorated jars. العاب على الهاتف المحمول
Logan Simpson submitted 40 shard samples from the project area to Dr. Abbott, which were analyzed using a JEOL JXA-8530F electron probe microanalyzer (microprobe) machine housed at the LeRoy Eyring Center for Solid State Science (CSSS) at ASU. The microprobe directs a stream of high-energy electrons onto a small and carefully selected spot on the shards' surfaces and records the energy wavelengths they emit. Those wavelength readings can then be deciphered as element concentrations for eight elements. gry hazardowe na telefon
The microprobe results showed clear and consistent differences in concentrations of these elements among the BPVs and undecorated jar shards in the sample. These results confirmed that potters in the eastern South Mountain area used different clays to make BPVs and undecorated jars. However, this result does not necessarily mean that they were made by different potters. The same group of potters could have strategically selected clays from different areas to make the two kinds of pots. موقع مراهنات 365 The clays used to make BPV pots tend to have higher calcium concentrations than those used to make undecorated jars. The use of calcium-rich clays could have helped create a lighter-colored surface when fired, which would provide a suitable backdrop for the red-painted decoration.
This research builds on a number of previous detailed studies of Hohokam red-on-buff ceramics and presents a major contribution in our understanding of the ancient Hohokam economy, technologies, and artisan crafts.
What do you think about our findings on the Frank Luke Addition Project? gry hazardowe jednoręki bandyta Let us know on LinkedIn! Have a question on Arizona cultural resources? Contact Logan Simpson's cultural resource consultants for more information.