2013 / May / 02
Ajo Train Depot Wins Preservation Award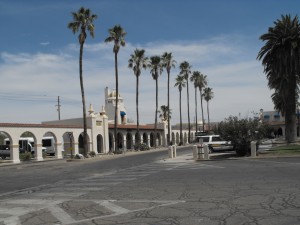 The Tucson–Pima County Historical Commission and Tucson Historical Preservation Foundation will present a Historic Preservation award for the Ajo Train Depot rehabilitation May 18.
LSD assisted the Pima County Cultural Resources Department and Federal Highway Administration with the rehabilitation of the NRHP-listed contributing building within the Ajo Townsite Historic District.  LSD prepared a Project Assessment, a Categorical Exclusion, and arranged for the utility and right-of-way clearances and asbestos testing. LSD also worked with the project design team to ensure that the Secretary of the Interior's Standards were applied to proposed building rehabilitation and addressed in the project assessment document. LSD also assisted with SHPO consultation on a conditional determination of "no adverse effect" for the rehabilitation project.
The Commission's award recognizes the significant contribution and impact that the rehabilitated Ajo Train Depot has to the interpretation of local history and architecture at the community level.
Ajo, a copper mining town, is about 120 miles southwest of Phoenix.