2013 / Mar / 22
ADOT Publishes Local Public Agency Projects Manual Developed by Logan Simpson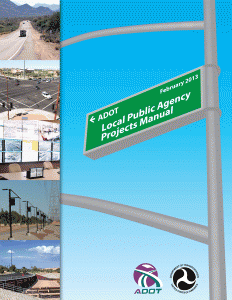 The Arizona Department of Transportation recently published an updated Local Public Agency (LPA) Projects Manual developed by Logan Simpson. The manual is designed to help LPAs, metropolitan planning organizations (MPOs); councils of government (COGs); and ADOT staff in the planning, design, and construction of projects funded with federal aid.
Logan Simpson worked closely with ADOT, FHWA, COGs, MPOs, and LPAs to develop the manual, which outlines the policies and procedures required to comply with FHWA and ADOT requirements for projects funded under the Federal-Aid Highway Program. The primary audience for this manual is LPA staff; however, ADOT staff, consultants, and contractors constitute strong secondary audiences. In addition to more than 130 surveys, Logan Simpson conducted nearly 60 interviews with LPA, ADOT, and COG/MPO staff early in the project to determine desired content and resources. Based on these findings, the manual was organized according to the project development lifecycle, including planning and programming; funding; development/design; construction; and final acceptance. Key topics, such as civil rights; financial reimbursement; consultant/contractor selection; and procurement are also covered in detail.
The manual includes practical tools like checklists and forms and extensive resources sections that provide links to online tools and resources. As the manual was developed, Logan Simpson worked closely with ADOT staff to confirm accuracy and resolve policy and procedure discrepancies, and in the process developed a unique, cross-agency vantage point about how local government projects are implemented. The manual was published in 2013 and is available online on the ADOT website.