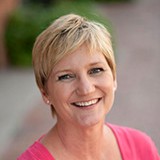 Business Development Manager
Trace has nearly a decade of experience as a public historian and more than 25 years of experience in marketing and business development. As a public historian, Trace prepared historical narratives that helped establish the context for planning projects like the Rio Salado project in Tempe, Arizona.
Trace is highly knowledgeable about local, state, and federal contracting. She is available to discuss how Logan Simpson's capabilities and experience can best meet client and teaming partner needs. She can also help connect clients with Logan Simpson's technical specialists so they can gather information about the technical aspects of a project.